Welcome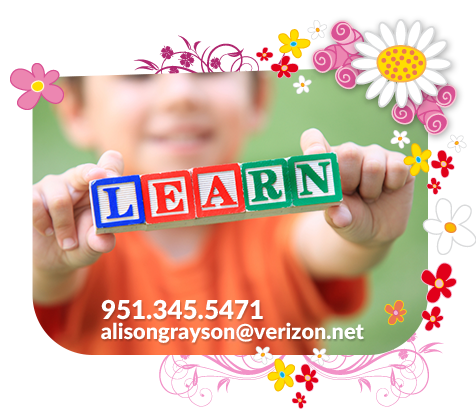 Large Family Child Care Home
License #334843265
New Location in Sunnymead Ranch in Moreno Valley
Licensed and Experienced for 14 Years
Child Care for All Ages
Preschool and Pre K Programs
Child Transportation Services
Flying your busy bees here, there, and everywhere!
About Us
Hi, I am Alison Grayson, Owner and Director of Grayson Family Child Care d.b.a. Flight of the Bumblebee Daycare and Delivery. I have been providing child care services for 14 years for children of all ages. I am a large family child care home with a license capacity of 14 children.
I serve healthy foods, teach the children all about what they are eating, offer many new choices, but always have the classics too. I am enrolled in a Food Program which has strict requirements to follow, yet, I exceed their minimums and purchase better quality foods to serve. Organics whenever possible, allergy aware, and lots of colorful, fun dishes the kids enjoy.
I offer a Preschool and Pre K program with a curriculum designed by educators to create perfectly prepared little ones ready to walk into Kindergarten and succeed.
Besides learning all about ABC's and 123's, reading and writing, they learn Mommy's and Daddy's names, their addresses, fair play, quiet time, music, sharing and caring, crafts every week, outdoor games, and so many more fun activities and subjects to learn about with other children their age.
For the older kids, after school care includes, play time, snack time, and plenty of time for homework. With other kids here the same age and older, tutoring support is readily available too.
Flight of the Bumblebee Delivery is a licensed and insured child transportation service, picking up children from one location and delivering them safely to the next. Might your need be to and from school, or in between Mom's and Dad's homes, or to a Parent's workplace. School, Sports, Daycare, Dance, Tutor, wherever your busy bee needs to be, I'll happily get them there.